Some of the most important figures, including Nobel prize nominees, in finance, politics, film, music, medicine, and even sports have come from the education system in Hawai'i. Have a look below to see the famous alumni who graduated from Hawai'i:

---
Famous Alumni of Hawai'i
Nobel Prize nominee for work on crop diseases and maize hybrids
– Soon-Kwon Kim
Vice Minister of Education in Beijing, China
– Hao Ping
Planning Secretary and Director-General of the National Economic and Development Authority of the Philippines
– Arsenio Balisacan
Leader in Korean nursing, first woman to head a Korean government ministry
– Mo-Im Kim
Writer, former newscaster on Nippon Television Network
– Yoshiko Sakurai
International development economist and business executive, President of PacMar
– Puongpun Sananikone
Minister of health for Republic of Palau. Founded Belau Medical Clinic
– Victor Yano
Director-general of the World Health Organization and advocate for childhood vaccinations
– Jong-Wook Lee
Singer, songwriter and founding member of the Mākaha Sons of Ni'ihau
– Israel "Iz" Ka'ano'i Kamakawiwo'ole, aka 'Braddah Iz (Brother Iz)
Senior vice president of chemical sciences at Elan Biopharmaceuticals. Inventor of two patented HIV protease inhibitor medications
– Hing Leung Sham
Professional baseball player –New York Mets and Pittsburgh Pirates
– Tyler Yates
President, Republic of the Marshall Islands
– Christopher Loeak
Search Institutions by Name or Category
Search by Course or Program of Study
This search allows you to find institutions that offer specific academic programs/ courses of study. Click on one of the examples above or type in the course of study you are looking for!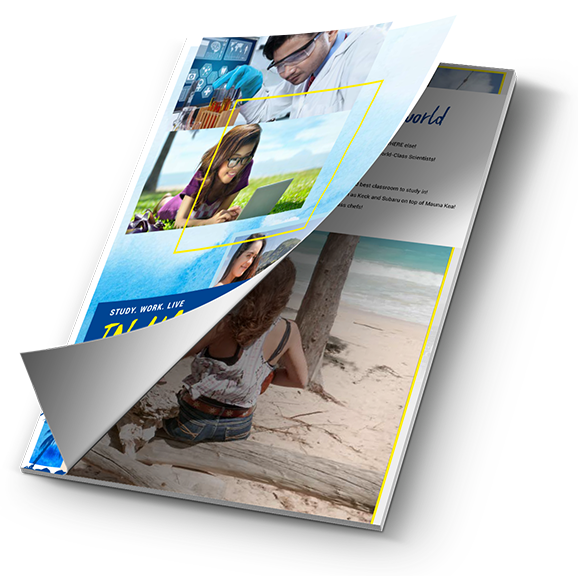 All That You Need To Know
To find out more information about our institutions and what makes Hawaiʻi the Best Classroom in the World simply download our brochure. Inside you will find key information about research, volunteer and internship opportunities available in Hawai'i that will give you real practical experience that will benefit your future career.
Need Help?
admin @studyhawaii.org
+1 (808) 956-2465