International students can work up to 20 hours a week, on and off campus, with some of the biggest companies in the world hiring our students to work with them.

---
On Campus Work
In choosing to study in Hawai'i you will also be opening yourself to an incredible array of off-campus job opportunities. Some of the biggest companies in the world across various sectors, such as Monsanto, Hampton Inn, Ford, Marriott, Keck, and the Bank of Hawai'i, are hiring our students directly.
With only 2.7% unemployment in Hawai'i, you will find there is a lot of work available for you.
Work During & After Study
During your studies in Hawai'i our institutions provide you with fantastic support to help you find work. The support includes:
Access to a jobs database – providing you up to date information on available jobs

Advice on what steps to take to attain a social security number
After Study Work
Many of our students stay to work in Hawai'i, or also move to another state in the U.S. With the amount of practical experience that students gain by studying in Hawai'i, choosing Hawai'i as your study destination will fully prepare you for the world of work.
If you are looking to advance your career quickly, the job market in Hawai'i is growing rapidly. The largest growing sectors seeking fresh graduates are:
Sector                     Job Growth Rate
Healthcare                   1.8%
Service Industry          1.9%
Clinical Laboratory     1.2%
Food/Culinary             1.8%
Hotel/Hospitality        1.5%
See some of the incredible opportunities available to you:
Work with the Keck Observatory, Canada, France, Hawai'i Telescopes and NASA during your Astronomy Course – where else could you do this?

Study Marine Biology on a coral reef – the only marine biology department in the world that offers a unique location.

Study agriculture in an award winning energy lab that enables you to learn in a restored Hawaiian field system, orchard or plant garden.

Take part in internships in forestry providing unique work experience in tropical rainforests– in what other native English speaking location could you do this?

Volunteer at the world's largest collection of observatories on Mauna Kea.

Gain extensive experience working and learning in the local communities.

Take advantage of paid and non-paid internships with huge brands across many fields.
On average nearly 80% of US students work part-time while studying?

Hawai'i has one of the lowest unemployment rates in the US, and thousands of jobs are available right now for students?

The most common jobs for students in Hawai'i are either on campus or working in the tourism or service industry?
Search Institutions by Name or Category
Search by Course or Program of Study
This search allows you to find institutions that offer specific academic programs/ courses of study. Click on one of the examples above or type in the course of study you are looking for!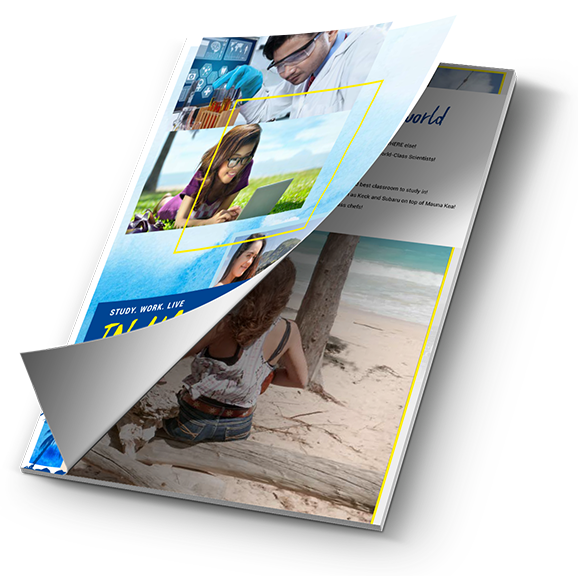 All That You Need To Know
To find out more information about our institutions and what makes Hawaiʻi the Best Classroom in the World simply download our brochure. Inside you will find key information about research, volunteer and internship opportunities available in Hawai'i that will give you real practical experience that will benefit your future career.