Why Study in Hawai'i?
Why Study in Hawai'i / Rankings & Credentials / Research in Hawai'i
---
In Hawai'i the whole island is your classroom. We offer more research opportunities, work prospects, volunteer options and internships in one place in comparison to any other study destination.This is what makes Hawai'i the Best Classroom in the World!
---
Hawai'i – The Best Classroom in the World!
Why is Hawai'i the Best Classroom in the World you may ask? Students in Hawai'i are offered unique opportunities to get hands-on experience to advance them in their careers in a world renowned destination. Business students have the opportunity to gain work experience with some of the biggest brands in the world; marine scientists will study at the only marine science research center built on a coral reef; conservationists will find unique opportunities to work on highly important projects in the rainforest, the reef, or on an active volcano. The practical hands-on experience and career opportunities Hawai'i has to offer are not to be found elsewhere.
Did You Know?
Global Village Hawai'i – Ranked as the #3 ESL school in the world in 2017 by Japan Best School Award

University of Hawai'i- Kapi'olani Community College – Ranked in the top 10 of U.S. Community Colleges by Niche rankings

Institute of Intensive English – Winner of the Excellence Award 9 years in a row from languagecourse.net

Hawai'i Pacific University – Ranked as the most diverse private non-profit university in the US

University of Hawai'i at Hilo is the most diverse 4-year public institution

Cost of Living in Hawai'i – Cheaper than in San Francisco or New York – and Hawai'i is consistently ranked as the Happiest State in the US!
Search Institutions by Name or Category
Search by Course or Program of Study
This search allows you to find institutions that offer specific academic programs/ courses of study. Click on one of the examples above or type in the course of study you are looking for!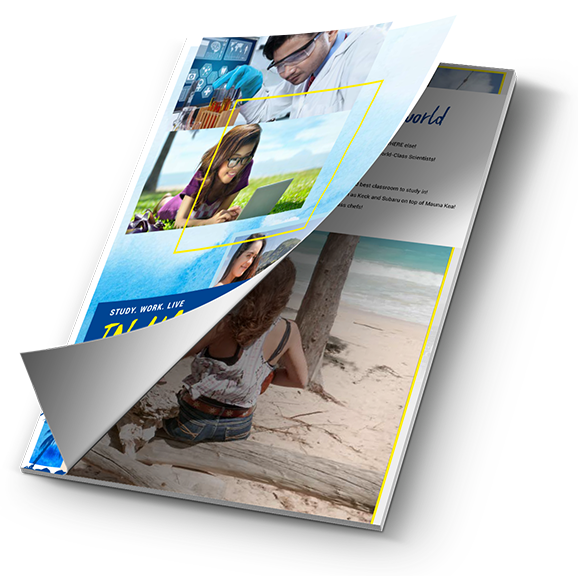 All That You Need To Know
To find out more information about our institutions and what makes Hawaiʻi the Best Classroom in the World simply download our brochure. Inside you will find key information about research, volunteer and internship opportunities available in Hawai'i that will give you real practical experience that will benefit your future career.
Need Help?
admin @studyhawaii.org
+1 (808) 956-2465