Study Hawai'i is proud to partner with the following organizations that provide various activities to international students and help us promote international education in Hawai'i!

---
Kualoa Ranch
Listed on the US National Register of Historic Places, Kualoa Ranch Private Nature Reserve is owned and managed by the descendants of Dr. Gerritt P. Judd. Kualoa's mission is to enrich people's lives by preserving the land and celebrating its history. Established in 1850, Kualoa's company vision is to be a role model as stewards of these sacred ahupua'a of Kualoa, Hakipu'u and Ka'a'awa. Our goal is to protect and enhance the natural beauty of these lands while developing sustainable recreational, agricultural and aquacultural enterprises that are compatible with the environment. All tours and commercial activities enable Kualoa to keep the lands undeveloped so future generations of will be able to enjoy them as well. We truly care about and strive to educate visitors about traditional Hawaiian values, reverence for our natural environment, respect for the host Hawaiian culture and most importantly, the sacred history of Kualoa. Kualoa offers a wide range of outdoor activities for Hawai'i school groups to learn about our natural environment and celebrate our rich island heritage. To make a reservation, contact our Education Office. Servicing over 12,000 local keiki annually with educational lesson plans that focus on the sense of place and a 4,000 acre outdoor classroom, Kualoa is indeed a special place for our children to learn about the environment around them. Activities include lo'i or taro patch maintenance and harvesting, stream restoration inplanting and invasive species removal, fishpond tours, our petting zoo and teambuilding challenges that encourage students to step out of their comfort zone and become a team player and enjoy the environment around the,. For reservations please contact our education office at 808-239-5497 or email us at [email protected]
---
Polynesian Cultural Center
Spanning across a 42-acre campus in Oʻahu's North Shore and more than 40 dining, retail and activity providers, many with longstanding ties to Lāʻie, the North Shore, and Polynesia, The Polynesian Cultural Center's mission is to preserve and portray the cultures, arts and crafts of Polynesia. Featuring six island villages in a beautifully landscaped setting representing Hawaiʻi, Samoa, Tahiti, Tonga, Fiji, and Aotearoa (New Zealand), plus exhibits for Rapa Nui and Marquesas, cultural presentations and events allow guests to get hands-on and learn unique activities from each island.
Formally dedicated on October 1963, the nonprofit organization is dedicated to providing jobs and scholarships for students attending the neighboring Brigham Young University – Hawaiʻi campus with 100 percent of its revenue used toward daily operations and in support of its education of its student-employees. Since its founding, the Center has provided financial assistance to more than 18,000 students and currently employs more than 750 students from over 70 countries and nearly every state.
Search by Course or Program of Study
Try these: ESLBusinessMarine ScienceTESOLTOEFL
This search allows you to find institutions that offer specific academic programs/ courses of study. Click on one of the examples above or type in the course of study you are looking for!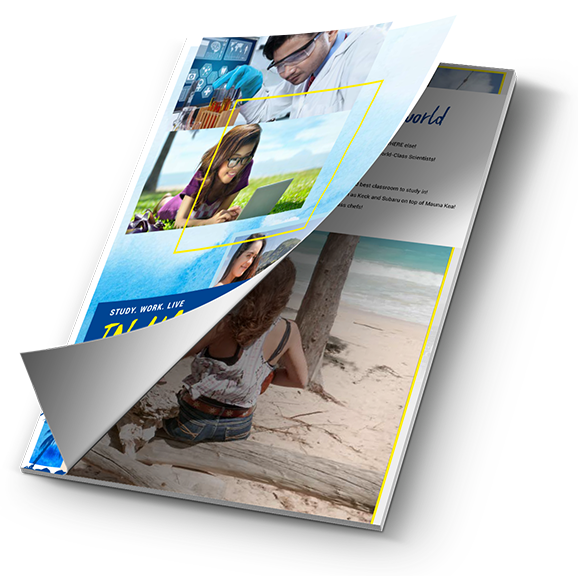 All That You Need To Know
To find out more information about our institutions and what makes Hawaiʻi the Best Classroom in the World simply download our brochure. Inside you will find key information about research, volunteer and internship opportunities available in Hawai'i that will give you real practical experience that will benefit your future career.
Need Help?
admin @studyhawaii.org



+1 (808) 956-2465