When moving to another country to study there are many things that you should know before traveling abroad, such as how to get to the destination, what is the cost of living, what visa is needed and what type of climate to expect. See more below:

---
What you need to know before arrival
Traveling to Hawai'i
Over 21 million passengers every year fly into Honolulu's international airport. Honolulu hosts nonstop flights to cities throughout the Asia Pacific such as Beijing, Seoul, Tokyo, Sydney, Shanghai and Manila. There are also numerous non-stop flights to the major cities of the US mainland such as Los Angeles, New York, and Miami.
With cheaper flights and more connections available than ever, you will find coming to Hawai'i economical and convenient.
Visa Information
In order to study in the United States as a foreigner, you will need to obtain a nonimmigrant student visa for temporary stay. In some circumstances, students in non-degree or certificate programs of short duration may enter without a visa. For more information, please check the US government website https://travel.state.gov/content/visas/en/study-exchange/student.html
Climate
The Hawaiian climate is incredibly consistent, with really only 2 seasons. Summer comes from May to October, while Winter from November to April. In Summer the average sea temperature is 29 C while in Winter it is 25 C.
Search Institutions by Name or Category
Search by Course or Program of Study
This search allows you to find institutions that offer specific academic programs/ courses of study. Click on one of the examples above or type in the course of study you are looking for!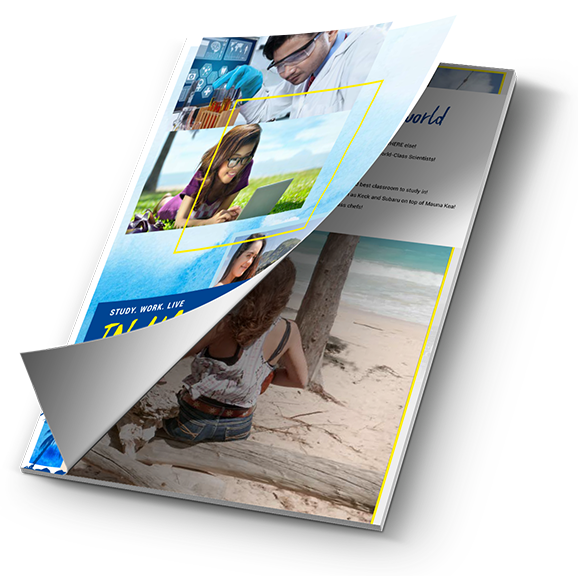 All That You Need To Know
To find out more information about our institutions and what makes Hawaiʻi the Best Classroom in the World simply download our brochure. Inside you will find key information about research, volunteer and internship opportunities available in Hawai'i that will give you real practical experience that will benefit your future career.
Need Help?
admin @studyhawaii.org
+1 (808) 956-2465