Please find the most frequently asked questions from our students below:

---
Medical & Safety Information
Can I get my medication in Hawai'i?
If you are taking prescription medications, we advise that you bring them with you. It's also a good idea to bring a copy of your prescription, physician contact information and your medical plan details.
Do I need health insurance?
Yes, all international students are required to show proof of medical insurance coverage for the duration of the term for which they are registering.
How do I contact emergency services?
To call an ambulance, fire department or police, dial 9-1-1.
Communication & Cellphones
International Calling
To call a Hawai'i number on a phone with international service, dial 1-808, and then the number. To dial from Hawai'i to another country, dial 1-country code, and then the number.
Cellphones
Most major U.S. cellphone companies operate in Hawai'i, and local cellphone calls are usually included in nationwide or domestic calling plans.
Postal Service
The United States Postal Service (USPS) is an affordable way to ship letters and parcels to domestic and international destinations.
Coming to Hawai'i
When can I arrive?
F-1 student visas can be issued up to 120 days in advance of your course of study start date. However, you will not be allowed to enter the United States in F-1 status earlier than 30 days before your start date. Continuing students may enter the United States at any time before their classes start as long as they have maintained student status and their SEVIS records are current.
DO NOT enter on a B-2 tourist visa unless your visa stamp bears the notation "prospective student".
DO NOT enter the US under the visa waiver program, or with a non-student visa you may already have in your passport.
When to Visit
Anytime is a good time to visit Hawai'i. The average temperature here is between 75˚–85˚ F (24˚-29˚ C). Summer, between April and November, is warmer and drier, while winter, between December and March, is a bit cooler. Trade winds keep things comfortable year-round.
Transport
Transportation options vary from island to island. Many visitors enjoy using the public bus system to conveniently explore the Islands. For most islands you can also get around by shuttle, bike, taxi, ride-sharing app such as Uber or Lyft.
What can I study in Hawai'i?
You have a wide choice of institutions to choose from on Hawai'i such as:
Universities
Colleges
K-12
Language Schools
To find out more, go to our institutions page.
Why should I study in Hawai'i?
Choosing to study abroad opens up your world. Please see some of the benefits awaiting you below:
Increase your job prospects
Improve your English language proficiency
Gain work experience
Chance to volunteer in foreign environments
Opportunity to discover new cultures and customs
All of this and more is waiting for you in Hawai'i – find out more!
Search Institutions by Name or Category
Search by Course or Program of Study
This search allows you to find institutions that offer specific academic programs/ courses of study. Click on one of the examples above or type in the course of study you are looking for!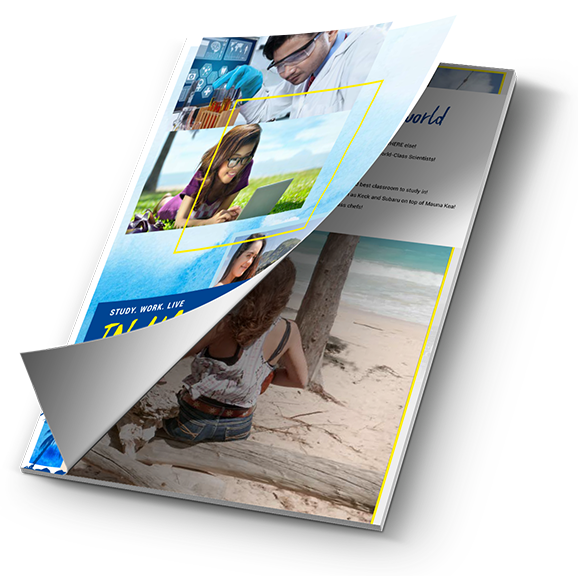 All That You Need To Know
To find out more information about our institutions and what makes Hawaiʻi the Best Classroom in the World simply download our brochure. Inside you will find key information about research, volunteer and internship opportunities available in Hawai'i that will give you real practical experience that will benefit your future career.
Need Help?
admin @studyhawaii.org
+1 (808) 956-2465