We recommend to all our students take part in the many wonderful internship and volunteer programs that are available. Please see the types of programs you have to choose from below!

---
Advance your career through the Internship and Volunteer Programs available only in Hawai'i!
Internships
Our educational institutions work with the biggest brands in Hawai'i allowing our students to gain extremely valuable work experience with our employment partners during their studies! See below the list of companies that are waiting for students like you to come and work with them:
Hampton Inn & Suites

Ford

Kapolei Golf Course

Wet n Wild

Subaru Observatory

Gemini Observatory

Keck Observatory

Four Seasons Hotels

Marriott Hotels

Hawaiian Airlines

Kahuku Farms

Oahu Museums
Volunteer
Are you looking for more than campus jobs, paid internships, or after study work? Are you interested in volunteering? If so, we have a large number of volunteering opportunities available for you. See some of the amazing volunteering opportunities below:
Beach clean-up
Take the chance to volunteer to help clean some of the most beautiful beaches in the world with organizations such as Surfrider Foundation
Cultural Engagement and Community Outreach
There are many programs for you to volunteer with, such as the Kokua Foundation and Waikiki Aquarium
Conservation Work
Conservation work is highly important for protecting Hawai'i's delicate ecosystem. Volunteers can gain great experience working in programs such as The Nature Conservancy, The National and State Park Systems and National Wildlife Refuges.
Forestry
Take the unique chance to help maintain a tropical rainforest in an English speaking country – an opportunity available only in Hawai'i.
Search Institutions by Name or Category
Search by Course or Program of Study
This search allows you to find institutions that offer specific academic programs/ courses of study. Click on one of the examples above or type in the course of study you are looking for!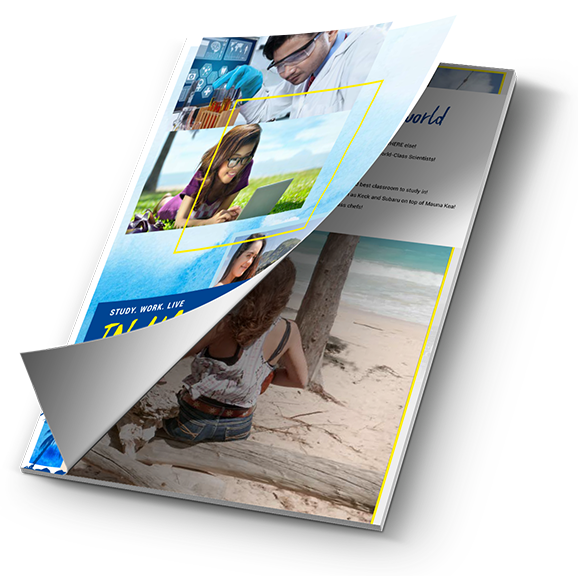 All That You Need To Know
To find out more information about our institutions and what makes Hawaiʻi the Best Classroom in the World simply download our brochure. Inside you will find key information about research, volunteer and internship opportunities available in Hawai'i that will give you real practical experience that will benefit your future career.
Need Help?
admin @studyhawaii.org
+1 (808) 956-2465