In Hawai'i the classroom is everywhere, the islands are your classroom. For example, did you know Hawai'i has more scientific observatories than anywhere else in the world? By choosing to study here you will be able to gain practical experience and real life job skills that will greatly help you in your career.

---
The amazing research facilities and opportunities available in Hawai'i will benefit you whether you are studying astronomy, marine biology, forestry, conservation, volcanology, medicine or another field.
See some of the incredible opportunities waiting for you below:
Work with the Keck Observatory Canada-France-Hawai'i Telescopes and NASA during your Astronomy Course – where else could you do this?

 Study Marine Biology on a Coral Reef – the only marine biology department in the world that offers this unique location.

Study agriculture in an award winning Energy Lab, that enables you to learn in a restored Hawaiian field system, orchard or plant garden.

Take part in internships in forestry providing unique work experience in tropical rainforests – in what other native English speaking location could you do this?

Volunteer at the world's largest collection of observatories on Mauna Kea – Hawai'i Island.

Gain extensive experience working and learning in the local communities.

Take advantage of paid and non-paid internships with huge brands across many fields.

Hawai'i offers students the opportunity to work with the world's biggest telescope and more scientific observatories in one place than anywhere else in the world.
Search Institutions by Name or Category
Search by Course or Program of Study
This search allows you to find institutions that offer specific academic programs/ courses of study. Click on one of the examples above or type in the course of study you are looking for!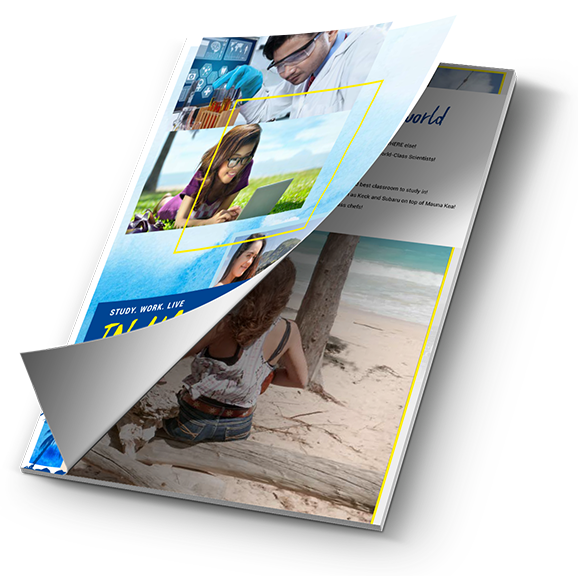 All That You Need To Know
To find out more information about our institutions and what makes Hawaiʻi the Best Classroom in the World simply download our brochure. Inside you will find key information about research, volunteer and internship opportunities available in Hawai'i that will give you real practical experience that will benefit your future career.
Need Help?
admin @studyhawaii.org



+1 (808) 956-2465