Hawai'i is undoubtedly one of the most beautiful places on the planet. Its beaches and natural beauty make it one of the most famous travel destinations in the world. At the heart of the Hawaiian Islands beauty is its rich culture. No longer simply a beach resort, Hawai'i is frequently rated as the happiest place to live in the US. Hawai'i also offers some of the most ethnically and geographically diverse institutions in the US. Join us and see for yourself!

---
Getting Around
Getting around in Hawai'i is very easy and affordable whether you travel via public transport, taxi or a shuttle provided by your school. Public transport systems, such as Oahu's TheBus, will take you anywhere on the island. Taxis and ride-sharing services also provide safe, comfortable and convenient transport to the many beautiful places that you must see during your time studying here.
Fun & Nightlife
You will always have a wide variety of new, fun and interesting experiences to enjoy in these lovely Hawaiian Islands. From beach parties to cultural excursions, from learning to surf to enjoying the unique cuisine with your new friends–each island of Hawai'i has something new to offer.
Did you Know?
Hawai'i houses the world's biggest telescope and more scientific
observatories in one place than anywhere else in the world.

Hawai'i has more endangered species than any other US State.

We have the world's largest volcano in Hawai'i – Mauna Loa.

The world's largest wind generator is on Oahu.

The world's highest sea cliffs, Kalaupapa, are on Molokai.
From beaches and volcanoes, to tropical rain forests and coral reefs, the Hawaiian Islands are the perfect place for any student to learn about the environment, to study in the field, and to get real hands-on experience.
Search Institutions by Name or Category
Search by Course or Program of Study
This search allows you to find institutions that offer specific academic programs/ courses of study. Click on one of the examples above or type in the course of study you are looking for!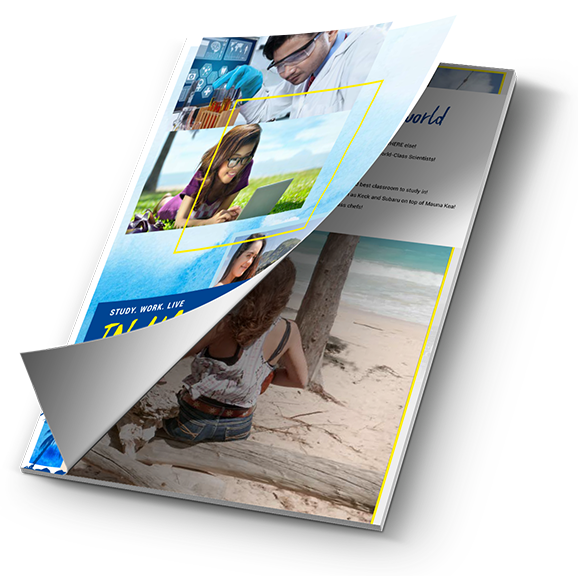 All That You Need To Know
To find out more information about our institutions and what makes Hawaiʻi the Best Classroom in the World simply download our brochure. Inside you will find key information about research, volunteer and internship opportunities available in Hawai'i that will give you real practical experience that will benefit your future career.